Parkway bridge has been location for many movie scenes in Tehran. this highway bridge was founded in 1970 and it is in the third and first district of Tehran. the length of this bridge is short yet its format is alluring and proper for this part of tehran. parkway bridge connects Chamran highway to Modares expressway.
Parkway district at a glance:
Geographical position in Tehran: North
It is known for: Highway bridge
Neighborhood districts: Freshte district, Jordan district
Access to Parkway: Valiasr street, chamaran highway
Subway station: It is not available
Bus station: it is available
The price range of furnished apartment in parkway district: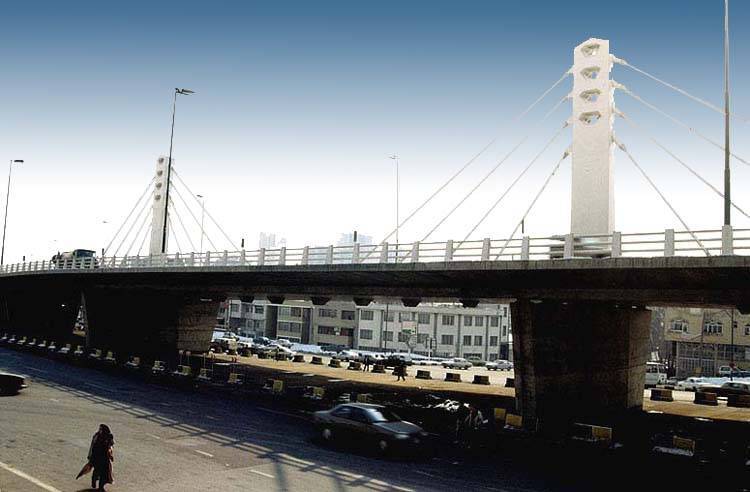 Istaghlal hotel where glass and concrete brush against the light
Previously known as Royal Hilton hotel of Tehran, this structure was designed by Heydar Ghiaï-Chamlou. Today it is known as Parsian Esteghlal International Hotel when visiting this site Take a look at its design and you will grasp the combination of Hilton hotels original layout with and minimalistic neat façade reflecting imaginative lights. These twin tower hotels have 55o rooms in each department. While spending time there it gives you the pleasure of best provisions.
Antique setting with original cuisines
Shatter abbas restaurant: Can you look down on savory Fesenjan with rice and hot bread? that's impossible! The smell of all the dishes with fresh bread takes you back to days in 50ies of Tehran.
Abshar Gileva: Sour kebabs marinated in long hours with care and accompanied with as many side dishes and you can imagine is the common menu item of Abshar Gilan. All these give you a real taste of north of Iran right in the Parkway district of Tehran.
Leon Restaurant: Are you a fan of creative fresh salads? Stylish design is seen in each plate of Leon restaurant on Freshteh street. The setting itself gives you a fresh view of Parkway and the whole area. Unique chandeliers and modern fireplace make this restaurant even more compelling.
Grab a fast sandwich at parkway cafés
Cluna: this convivence store is right down the parkway, on the left side of vali-asr street. Have a healthy choice even if you're on the rush! Cluna has a wide range of pre-prepared salads and sandwiches and drinks with very reasonable price.
Parkway bread house: all kinds of European bread are made in parkway bread house. This shop is on the corner of vali-asr and Chamran highway fronting parkway bridge. Looking for a fine brunch or an early morning café then this place is for you.
Exhibition of visual arts in Parkway district
Abtin art gallery:  since it's foundation in 2000 Abtin gallery on khak zad street down part of Parkway dedicated to the capable artists in Iran and around the world. Delusive City was one of its great painting collections which symbolically represented metropolitan cities like Tehran. 
re-energizing pool and jacuzzi in this district
Talash sports and cultural center: swimming pool, theater, fair hall restaurant and conference hall are some of Talash complex center arranged to fulfill all your requirements and needs.
Top contemporary newspaper of Iran is here
Payam Hamshahri newspaper: one of the main headquarter of this newspaper is on the right corner of vali-a r street and Chamran highway-below parkway district. This is a great resource to learn about daily events of Iran and being among the best brands of Iranian newspaper puts it among top choices. Various section of this newspaper ensures that it covers your interests.
How to get to parkway?
Parkway bust station 4
BRT line 7